Authenticate. Easy, fast and secure. With BettyAUTH.
Accustomed login Sign up online to a service with your account data. Everything as always.
Authenticate skillfully Authenticate in a few seconds with the BettyAUTH-App. And all that secure.
BettyAUTH comes with its own ecosystem. The BettyAUTH app and the BettyAUTH server work perfectly together. All requests are sent via an API. So no one evil enters the systems.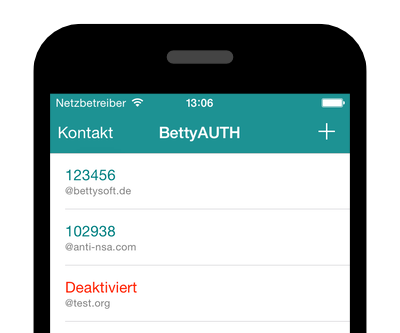 Developer APIs
You are developer and want to implement the full functionality of BettyAUTH? With our new AuthSDK developers can easily integrate BettyAUTH functionality in their projects.
Why you should use BettyAUTH?
Fast and secure authentication without additional account
Context-based API provides an optimal protection of the system
No time synchronization between server and client needed